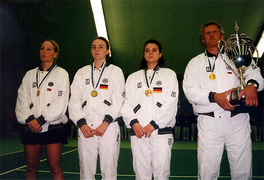 TENNIS CAREER
Elena Bergomi (also Elena Wagner, Elena Pampoulova, born May 17th 1972) is a retired professional tennis player. Elena's first tennis coach was her mother, Bulgarian tennis player, Lubka Radkova, Elena`s father, Emilian Pampoulov, also coached her.
Until 1993, Elena represented Bulgaria on the tennis courts around the world and from 1994, she competed for Germany. Elena was an active player of the Federation Cup team for Bulgaria and later on for Germany.
During her career, she was a member of the WTA Player Committee for several years. Since 2012, Elena has been an active member of the International Tennis Club of Germany.
Best WTA singles ranking: 62
Best WTA doubles ranking: 38